Drink Vending Machine "Lemgo" - AUTOMATically sell more
adjustable temperature up to 4° Celsius
contactless payment options
individual compartment widths
back-friendly removal of goods
easy to use touch screen
gentle transport of the goods
inventory can be viewed online
Inquire now!
Drink Vending Machine "Lemgo" - AUTOMATically sell more
adjustable temperature up to 4° Celsius
contactless payment options
individual compartment widths
back-friendly removal of goods
easy to use touch screen
gentle transport of the goods
inventory can be viewed online
Inquire now!
The Vending Machine for Refreshing Beverages
Offer your customers cold, refreshing drinks around the clock. With the integrated cooling system, you can regulate the temperature down to 4° Celsius. Your goods are stored professionally and clearly visible. Your customers can use contactless payment options as well as cash as a means of payment. Increase your customer service with independent opening hours, increase your sales.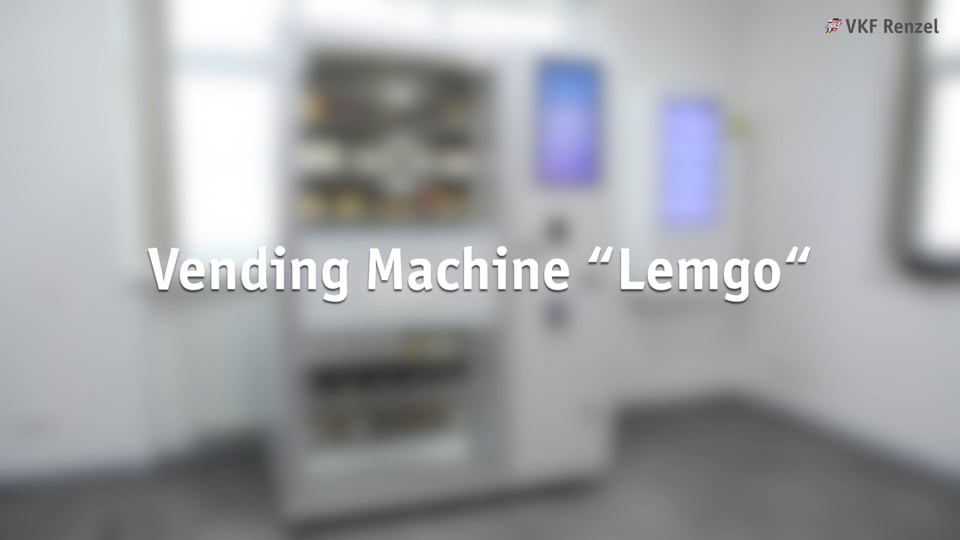 Payment methods
contactless payment with card, smartphone or smartwatch
Adjustable temperature
built-in cooling up to 4° Celsius
Lift system
careful transport of your goods and products
Online Planning
define offers and discounts online
Customised solutions
Individual shelf widths up to 300 mm
Cloud
manageable, viewable and controllable online
Touchpad
easy to operate due to modern touchscreen display
Shopping cart function
several articles can be purchased simultaneously
Advantages for you
easy control of discounts and promotions
sell automatically 24/7
up to 60 different products available at the same time
different shelf widths for offering different products
theft protection optionally available
exterior surface can be used as advertising space by means of foil coating (renewable)
sensitive lift for the gentle dispensing of goods
alignable due to adjustable feet
touch screen can be used for advertising videos, ads or up-selling
create and promote product packages
images, videos and data can be stored in the cloud
age check via identity card or EC card
stocks and statistics available online
different languages can be created
Advantages for the customer
clear and user-friendly display
back-friendly removal of products at a comfortable height
attractive illumination of products with LEDs
different languages selectable
display of products on the screen in groups or randomly
accessible at any time
cool and temperature-regulated products available for purchase
various payment options
contactless payment with EC card, smartwatch or smartphone
shopping cart function: select several products, pay once
appealing design
clear product videos and product suggestions
current offers and sale promotions
simple operation
Different payment methods
Customers have the option to choose from a variety of payment methods. Payment flexibility ranges from cash and credit cards to contactless payment.
Contactless payment
Contactless payment is not only hygienic, but also simple, progressive and fast. Payment can be made by card, smartphone or even smartwatch.
Interactive Touchscreen Display
The easy-to-use touch screen offers great possibilities in advertising and pitching to customers.
Back-friendly removal of goods
A removal compartment at a convenient height makes taking out the goods very back-friendly.
Online inventory management
API interface
Video embedding by VKF
Online statistics
UV protection film
sun protection for your products
With an appropriate protective film, your products are protected from UV rays and remain high-quality in the long term.
Privacy film
Ideal for age verification
Only in combination with the verified age check is the opaque film switched transparent and the customer gets a look inside the vending machine.
Impact protection film
protection against vandalism
Make your vending machine impact-resistant with an appropriate film. This film is an effective protection against vandalism.
Product description
Article number
Vending Machine "Lemgo"
incl. coin changer and banknote reader (black / white)
74.0018.1
Vending Machine "Lemgo"
without coin changer, w/o banknote reader (black / white)
74.0018.25
Extension unit slave module "Lemgo" (black / white)
74.0018.27
Contactless payment module for "Lemgo"
74.0005.1
Age verification card reader for "Lemgo"
74.0020.4
Electronic privacy film for "Lemgo"
(only in connection with age verification)
74.0030.3
UV protection film for "Lemgo"
74.0030.1
Impact protection film for "Lemgo"
74.0030.2
Impact protection pane for "Lemgo"
74.0024.1
Premium branding for "Lemgo" (full foiling)
74.0035.1
Basic branding for "Lemgo" (foiling of the front)
74.0035.2
Antifreeze heating for "Lemgo"
74.0012.8
Outdoor display "Lemgo"
74.0014.20
Outdoor case for "Lemgo"
51.0326.2
| Services | Basic 74.0006.5 | Premium 74.0006.6 |
| --- | --- | --- |
| Registration Cloud Access by VKF Renzel | ✓ | ✓ |
| Online data management | ✓ | ✓ |
| Online article maintenance (prices, pictures, texts) | ✓ | ✓ |
| View inventory online | ✓ | ✓ |
| Download online statistics | ✓ | ✓ |
| Manage online discounts & promotions | ✓ | ✓ |
| Automatic notification in case of shortfall in quantity | ✓ | ✓ |
| Manage multiple vending machines via cloud access | ✓ | ✓ |
| API interface for coupling to enterprise resource planning | ✓ | ✓ |
| Receipt via e-mail to end customer | ✓ | ✓ |
| Initial setup by VKF Renzel* | | ✓ |
| Complete article installation by VKF Renzel** | | ✓ |
| Embedding of videos by VKF Renzel** | | ✓ |
| Product integration in the vending machine and initial loading*** | | ✓ |
* Before delivery
** Pictures, videos, prices and texts must be provided by the customer
*** Please check with us if available in your country
Detailed Briefing
Comprehensive Service Package
Attractive Design
State of the Art Technology