Roller Banners & Pull Up Banners
Roll Up Banners are mobile, flexible and attractive. They can be set up in no time with little effort and your advertising is presented in a high-quality manner.
Roll Up Displays Get Your Advertising Rolling
With the appealing banner systems you remain mobile in your advertising. The articles can be used for permanent as well as short-term applications. Attractive advertising banners are presented in the best possible way and perfectly stretched. Despite constant assembly and disassembly, your banner stands always remain stable.

A Roll Up consists of a stand, extendable or plug-in telescopic pole and printed advertising banner. A practical transport bag makes the equipment perfect. The stand contains the print on the one hand and often has extra foot elements on the other. These elements are folded out and provide additional stability.

The pole that holds your advertising elements is fixed to the foot. Depending on the item, the height can be adjusted so that you can display your advertising at different viewing heights. The basic frame is available in heights of over 200 cm.

Various widths of roller banners are available to match the adjustable heights. The different widths range from 600 - 2000mm. The Roll Ups are most often ordered in the dimensions 85 x 200 cm. The size specifications refer to the dimensions of the banner.

When creating the banner, you have complete freedom in the design. Simply send us your graphic files and we will print them for you. You do not have the possibility to create a corresponding file? In addition to images and texts, we will be happy to realise your ideas for you. You can choose from various methods and techniques for printing.

Your appealing design will be printed on a Frontlit Banner. The frontlit banners of our products consist of a PVC tarpaulin made of polyester film or polyester fabric. These banners are translucent and optimally reflect your appealing design.

Depending on the area of application or intended use, different criteria are decisive for you. We offer you a choice of different quality levels: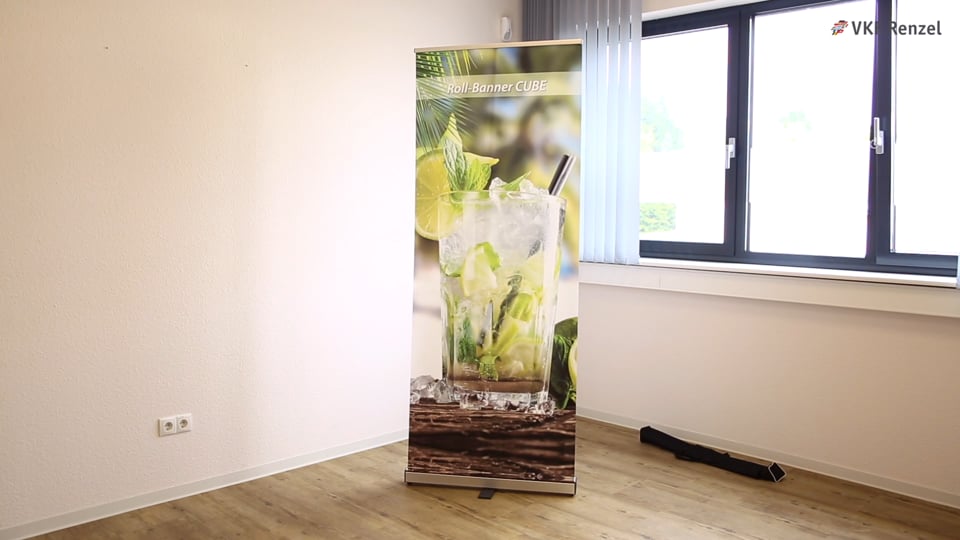 Economy
Simple stand
Banner is firmly glued, no banner change possible
Ideal as a mobile presentation system
Premium
Presentation height is adjustable via telescopic rod
Graphics can be changed without difficulty
Excellent graphic cassette with integrated folding rails
Professional
Very resistant, increased stability
Presentation on both sides
Non-slip feet for a firm stand
Also suitable for outdoor use
Simply Roll Out and Present Directly
Especially at trade fair stands, sales campaigns or other special events, roll up banners are part of the basic equipment. Because the practical roll ups are not only a particularly effective system for presenting your offer in an attractive way.

They are also easy to handle, quick to set up and dismantle and come with an exclusive printing option. You too can use a roll banner or roll-up to show off your exhibition stand to its best advantage. Once rolled out and presented ready to stand, each roll-up makes your offer visible quickly and, above all, very eye-catching.

The printed banner is protected inside the stand. There it remains well preserved until the next use. Rolled up just a little, the roll-up banner can be transformed into an attractive, upright advertising space in just a few easy steps. Advertising can be this simple and fast.

To ensure that the Roll Up Display remains permanently up-to-date, it is recommended that the banner is changed regularly. On the one hand, the display can of course be used permanently. Stowing the print inside the base provides good protection for the print.

On the other hand, the easy banner change opens up new possibilities in the use of the banner. The display remains usable in the long term and for different promotions as well as areas of application. This means that it can be used again and again as basic equipment for your promotion. New advertising or information banners are also available in our online shop.

The easy handling and storage makes these displays very popular. Printed with different motifs, the RollUp Displays are used in various industries. In addition to appearing at trade fairs and events, they are increasingly used as advertising media in sales rooms, hotels and other facilities.

The items shown above give you the opportunity to inform and advertise in an appealing way. Short-term discounts, promotions or events can also be promoted with the banner displays. Over time, banners have become an integral part of trade fair equipment and sales promotion at the point of sale.
Transport Of The Roll Up In The Carrying Bag
Assembly Of The Base Frame
Extending The Roller Banner
Fixed and ready!
High-quality Advertising Media in all Sizes and Shapes
If you take a look at our online shop, you will see that the banners differ not only in quality, but also in size and shape. But also the suitability for indoor or outdoor can be a decisive criterion for the selection of the suitable roller banner. In our assortment you will find the mobile advertising displays with different characteristics.
Flame Retardant
Indoor and Outdoor Item
Multi-Sided and Large-Scale
Exclusively Customisable
Are you looking for roller banners with B1 fire protection certification? Our advertising banners in the various sizes are available in different prints, both of which are flame retardant. The indoor banner displays in the various quality levels Economy, Premium and Professional can be equipped with these prints.

The use of the rollable banner stands is not limited to indoor use. We also offer outdoor displays. Non-rusting material ensures resistance to changing weather conditions. Placed in amusement parks, on company premises or in front of cultural institutions, the outdoor system provides effective outdoor advertising.

In outdoor as well as indoor applications, multi-sided advertising is advantageous. X-sided banners attract customers' attention from different angles. Front and back can be printed the same or differently. The advertising banners are set up using two extensions. They can be stretched independently of each other.

Multi-sided, but also large-area advertising ensures additional attention. Our "Mega" or XL displays have the characteristics of a classic roller banner, but with a larger surface area. Entire back walls or shop windows can be designed with these banners. With appropriate printing, the banner can also become a trade fair or press wall.

In the various sectors, high-quality roll-ups are a classic among advertising displays. They impress with their simple, quick handling, space-saving transport and good price-performance ratio. Decide now here in your online shop for the roll-up banner that best suits your needs.

As an alternative to the roll banners, you can get L-banners and X-banners. Just like the Roll Ups, these displays are easy to set up and take down. With a transport bag, these displays are also easy to transport and store.

The banner in the L-shaped display is attached to two rails and is then stretched. In the X-shaped display, the base frame can be folded up. The corners of the banner are fixed firmly to the base frame.

Browse through our range and find the banner display that ideally meets your needs. Including the printed banner, you can order the corresponding roll ups in the online shop, by phone or by e-mail. The display will soon be an integral part of your shop and trade fair equipment.