Air Purifier
Room air purifiers with Hepa filters and mobile air filters are inconspicuous items that can have a great impact on how people feel. The easy-to-place units have a Hepa filter that replaces polluted air with purified air. Dust particles, bacteria and also viruses (including the Corona virus) are filtered out of the environment.
Where is a Room Air Purifier / Mobile Air Filter used?
Thanks to a simple design and low weight, the room air purifiers can be used in various places. With high cleaning performance, the device nevertheless remains imperceptibly quiet. With mobile air filters, you can guarantee clean air in your everyday working environment, so that you and your employees can breathe a fresh sigh of relief at any time.

The various models of air fresheners and cleaners are used both in private households and in the commercial sector. In private households, air purifiers help allergy sufferers in particular to curb the extent of their allergies.

With a simple design and different coloured filter covers, the models can be used in any living space. A filter cover serves as a colourful spot without limiting the filter performance.

In the commercial sector, room air purifiers with Hepa filters can be found in various areas. Especially in offices, the purifiers have a positive effect on the working climate. Stuffy and stale air is replaced by purified air. This increases the well-being of your employees and thus their satisfaction and productivity.

In addition to use in offices, warehouses and production facilities also like the mobile air filters. Especially when pollutants or a lot of dust particles are produced, a remedy can be found. In no time at all, the air you breathe is clean again and your staff will find themselves in pleasant working conditions.

Where do people not want clean air? In many different areas and places, people often want clean air. Our air purifiers fulfil exactly this wish at their desired place of use. The recommendation for the size of the room must be taken into account.

Just as there are various models, they are also suitable for other room sizes. There are models that are especially designed for smaller rooms or there are items that fully refresh large rooms. The reason for these differences is the different size of the cleaners. Its dimension is adjusted to the size of the room to get optimal results.

Ideally, the air should be filtered two or three times in one hour. By calculating the volume of air in the area to be cleaned, this can be compared with the cleaning performance. For a clear comparison, we recommend using the filters from our online shop.
Operated with app
Adjustable automatic mode
Can be used via remote control
How does a mobile Room Air Purifier / mobile Air Filter work?
Often one is not even aware of how stuffy the air one is breathing is. The presence of viruses or pollutants is also not visible to the naked human eye. This is where air sensors come into play. The sensors measure the quality of the air and thus tell you that it should be cleaned again.

Through the interaction of the air sensor with the associated app, you always have the quality of the room air in view. Control via the "IDEAL AIR" app is one way of operating mobile air purifiers. Some products are supplied with a remote control and also have an automatic mode. Alternatively, all products can also be controlled manually.

The remote control is easy to use and self-explanatory. In automatic mode, you do not have to worry about the app or the remote control and simply leave the cleaning to the device. Regardless of the operation, you achieve effective air filtration for the respective area of application. This is achieved by combining different filters inside the products.

The 360° HEPA (High Efficiency Particulate Filters) filter essentially consists of four different filter stages. First, the air flows through a grid that serves as a pre-filter.

Coarse particles, such as dirt or similar, get caught here. The next pre-filter is a net. The filtration of particles that are rather coarse-grained takes place here.

After the first two filtrations, the air is cleaned on the smallest level. Next, particles that are respirable and ultra-fine are filtered out. Dust particles or viruses would also fail at this point. Finally, a layer of activated carbon frees the air from odours and gases.

At the end of the process, clean and pleasant air is produced that is free of viruses, pollutants and dust, among other things. Despite the high performance, the mobile room air purifier remains quiet and is hardly noticeable.

The efficiency of the air purifier depends, of course, to a large extent on the filter inside. Therefore, it is easy to replace the filter as soon as you notice that the function of the purifier is decreasing. Therefore, the 360° filter is also available separately in our shop.

After replacing the filter, your device is virtually as good as new and you can continue to enjoy its benefits. The service life of a filter is on average about 1 year.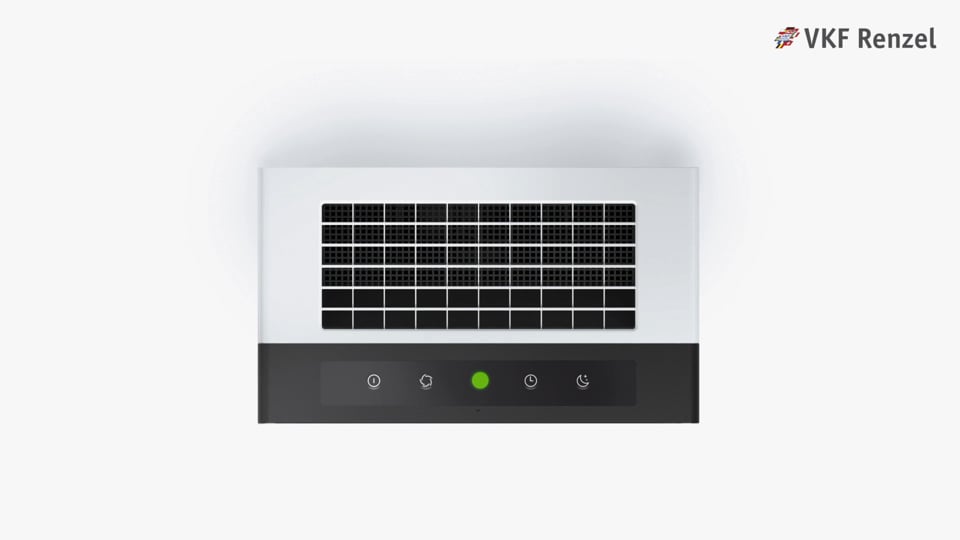 How sensible is the use?
The various models in this category belong to the type of product where the benefit is not necessarily immediately apparent. You notice smells, but you are not aware of the presence of pollutants or other small particles. Therefore, with these products, it is easier to ask how useful the product really is.

As a company that has air purifiers in use ourselves, we can assure you that it makes perfect sense. The circulating air has a great influence on people's sense of well-being. Bad air can not only cause bad moods or headaches. It can also make you ill.

With a suitable unit for your company, you will not only make your staff feel better. At the same time, you can also protect their health.

By filtering out pathogens, viruses and pollutants from the air, you can contribute to the health of your staff. In addition to the staff, customers in sales rooms can also benefit from the purified air. Create an optimal shopping atmosphere for your customers.

The mobile room air purifier can not only have a positive effect on health. In addition, the respective model filters unpleasant odours, dust and pollen from the room air. This is especially helpful for allergy sufferers. Due to the clean air, complaints can disappear considerably.

The purchase of an air purifier offers well-being and relaxation not only for customers, but also for employees. Just as the shopping atmosphere is enhanced, the air filter helps to establish a workplace with a feel-good factor. Especially in open-plan offices, its use makes a lot of sense.

Where many people come together, there is a high risk of infection. Aerosols and stuffy air are easily filtered out of the air. The air purifier works continuously and can also be used in night mode. This way, you guarantee high indoor air quality around the clock.
Quiet with high performance
Good for your health
Filters aerosols, dust, odours and more
Easy to operate
Room air purifiers for small, medium and large rooms
For optimal results in terms of air quality and well-being, the cleaning power of the air purifiers with Hepa filters must be taken into account. Depending on the room size, a strong or not so strong performance is necessary. The different models in our range are suitable for rooms of different sizes. You will find models for small, medium and larger rooms.

The cleaners perform a different number of cubic metres per hour. This is reflected in their suitability for a room size as well as the power consumption. A built-in night mode or energy-saving mode keeps power consumption low. The power of the respective mobile room air purifier can be controlled manually.

Some devices have an app control or an automatic mode. In this way, filtering takes place completely automatically. While you go about your normal daily routine, the room air filter itself determines how strongly it must filter the air. In combination with an air sensor, the quality of the air can be checked at various points.

At the place of use, the air purification systems with sensor are easy to place. Ideally, the model should be placed centrally in the room so that the air and pollutants can be filtered from the circulating air. If the model is placed in a corner, there is a risk that this area alone will be filtered over and over again. There must be circulation of air in the room.

Our products range from a room size of 20 m² up to a filter area of 160 m². Therefore, our air purification units are not only used in offices, but also in many other areas. Therapy rooms, waiting rooms, school classes as well as fitness studios are among the popular areas of application.

In these places, people have decided to use air purifiers and now benefit from the many advantages of these products. One finds the articles for air purification in different sized rooms. There they remove pollutants, pollen, thanks to the activated carbon filter also unpleasant odours and much more.

 
Popular areas of use are:
Open plan offices
Waiting rooms / areas
Class rooms
Private households
Mobile Room Air Purifiers: Ideal as Business Equipment
Thanks to the different performance of the models and the orientation for different room sizes, the right room air purifier can be found for every area of application. Small offices, sales rooms, warehouses and production facilities are sustainably supplied with clean air. This ensures a visible sense of well-being at the workplace or in the salesroom.

At the respective place of use, the HEPA air filter becomes a permanent part of the equipment in no time. A simple design keeps them in the background. A practical size ensures that the cleaners can be flexibly placed in various locations. If necessary, they can also be moved around constantly.

In offices, warehouses and shops, the device quickly meets the necessary requirements. But what about use in the medical sector? In therapy rooms, waiting rooms and surgeries, there is a special focus on the air purifier. In addition to dust, pollen and odours, the devices must filter pathogens in the form of aerosols.

Because they are equipped with a high-quality HEPA filter, the models are also suitable for use in medical areas. Especially in places where many sick people come together, an air filter is recommended. At the same time, it offers relief to allergy sufferers in your practice.

Schools are also often a place where diseases are quickly transmitted from child to child. Rooms that are difficult to ventilate can be equipped with an air purifier. Especially in winter, ventilation and thus the quality of the air is neglected. Our products shown above help to maintain good air quality and health.

In many rooms, people are not even aware of the bad air. The workplace is one of the places where we spend most of the day. Stuffy air often causes headaches and bad moods or can even make you ill. For this reason, the employer should always ensure good and clean air.

By using an air purifier, you improve the working conditions of your employees. Customers usually only spend a short time in your business. Of course, they also benefit from a good shopping atmosphere through high air quality. But your employees usually spend more than 8 hours in this place.

Make an air freshener a permanent part of your business equipment now. Create an attractive, healthy and innovative workplace for your staff and employees. Have pollutants, pollen, dust, mites and many other harmful substances easily filtered out of the air. Breathe clean air in your everyday office life!

The various models are easy to operate and can be used in all areas. Ensure a fresh breathing sensation in the office, warehouse or salesroom. Benefit from clean air around the clock!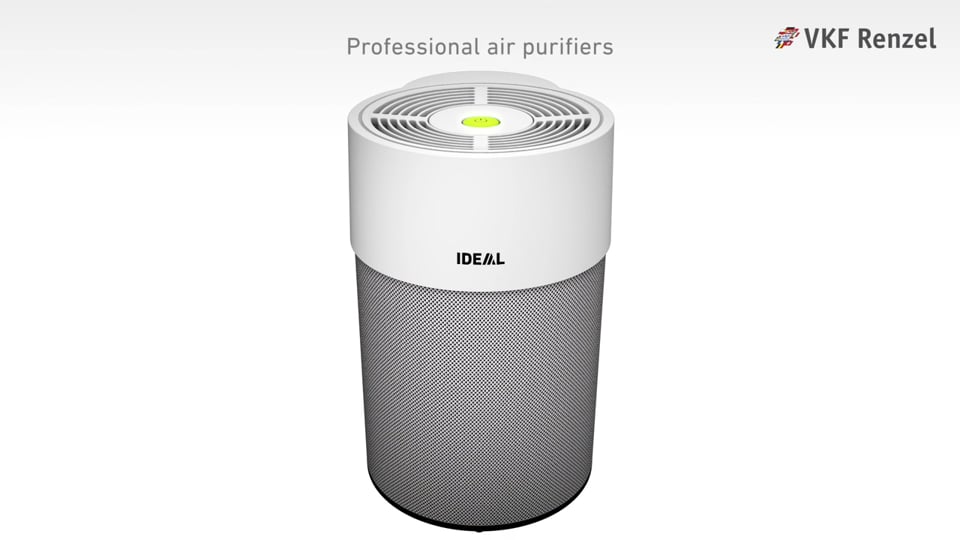 What should be considered when buying an air purifier?
When buying a room air purifier, the area of use plays a major role. The room can be used to determine how powerful the device should be. First of all, the size of the room is decisive. Is it a small or a larger room?

Our systems are optimally suited for certain room sizes. The cleaning performance is also linked to a certain volume of air per hour. For cleaning larger rooms, a higher performance is required than for small rooms. This is because more air has to be filtered.

Some specific areas require more cleaning power than others. In this case, you can opt for a more powerful model. After determining the right power, you can figure out the placement of the unit. Where do you want to place the air purifier?

Your air purifier can be used on the floor, on the table or mobile. Certain models are more recommended for handy use on a table or counter than others. Still others have castors and can therefore be used flexibly in the room.

At the same time, these units are transportable and can therefore be used at various locations. Even smaller units can be transported quickly and easily. Simply tie the power cable together, pack the air purifier and off you go.

Finally, the design and size certainly play a role. Since it is a technical object, the technical data are decisive for the purchase. But the appearance of the models should not be neglected either. Especially in offices or waiting rooms, the air purifiers are usually placed under a table or somewhat hidden.

But shapely designs are increasingly transforming the device into a central object of the furnishings. In our online shop, you can get classic models in white or black, among others. The round or angular designs in these plain colours are unobtrusive. They hardly stand out in the equipment and furnishings of your business.

At the same time, the air purification units can be coloured. A high-quality filter cover in the colour of your choice provides a splash of colour in your office, shop or waiting room. These covers are only available for some models. They do not restrict the function of your air purifier in any way.

Do you want a device that is hardly noticeable? Or would you like a cheerful splash of colour for your interior? Decide now for the item that perfectly suits your place of use. Within a very short time, you will notice the improved air quality.

Choose clean and pleasant recirculated air instead of stuffy and stale air. Simply select the right model online now!
You want to increase the quality of your indoor air?
Air purifiers with HEPA filters not only improve the quality of indoor air. By the way, they also provide an increased sense of well-being and contribute to health.
Do you have questions about the cleaning performance of an item? Are you not yet aware of how you can use a device in your business? Or would you like to know more about the various products?
We look forward to your questions, requests or suggestions. Please feel free to contact us.
+49 (0) 2874 910-180
sales@vkf-renzel.com