PIXLIP GO Presentation System
PIXLIP GO is the world's first mobile and illuminated presentation system made of plastic. The system is based on a frame construction with integrated LED modules for illuminating suitable textile prints (optionally available).

Convenient to use, PIXLIP GO can be set up in no time at all. The system can be stowed away in a practical carrying bag and is a real eye-catcher when set up. Powerful LEDs ensure perfect illumination of the textile banners. This is how you attract attention at trade fairs, events or at the POS!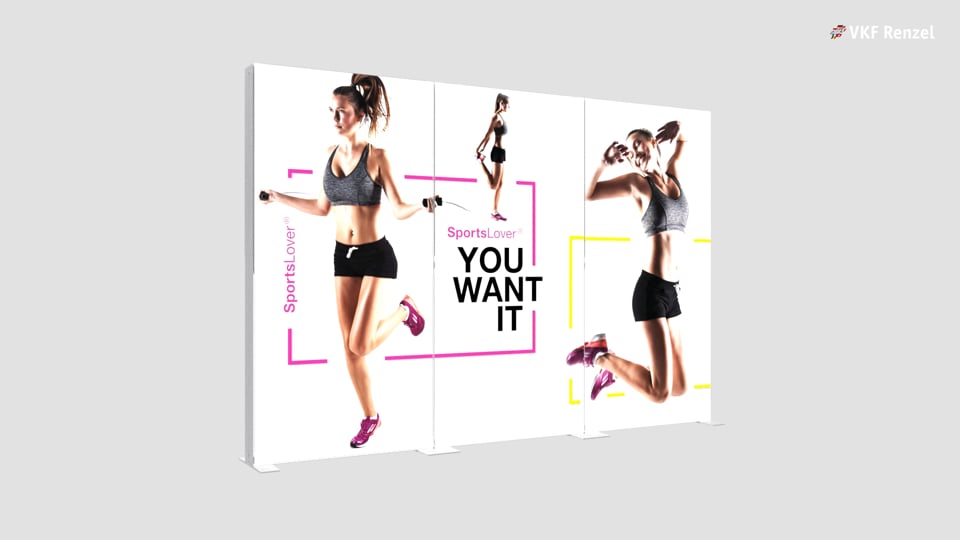 The MOBILE Presentation System made of Plastic
The LED light frame consists of a modular construction system and offers different frame heights and a variety of practical attachments. Advertising banners are displayed without edges. Several elements combined can present large-area displays in a high-quality manner.

The luminous effect, which is clearly visible even in daylight, draws attention directly to your advertising message. Thanks to the flexible connection options, individual light boxes can be combined with each other to form various constellations. Even entire exhibition stands are possible with PIXLIP technology.

Thanks to the modular system, different exhibition stands can be realised with one system. The system is changeable and durable. It offers the chance to present yourself anew at every event without great effort. For this reason, the systems are also perfectly suited for shop window design or at the point of sale.

Exclusive banners make every PIXLIP GO element unique. Time and time again. If the message changes, the banners can be replaced quickly and easily. The illuminated wall can be fitted with your illuminated advertising on both sides. So you can always adapt your illuminated wall to new products, events or seasons.

A single-sided use with a block-out banner on the back is also possible. This banner prevents light from shining through by means of a barrier layer. You can also order replacement banners for your PIXLIP GO from us. The banners can be replaced quickly and easily.

In addition to the banners, a selection of extensions and accessories is also available. A brochure holder or an attachment for flags serve advertising purposes. System connectors or the door set allow further options in the design. With the connectors, it is possible to combine various PIXLIP GO elements with each other. Flex connectors and door glides from the door set can be used to create folding walls.
 
Advantages of the Presentation System
BRIGHT! The highly efficient LED modules guarantee homogeneous illumination and generate maximum attention.
FAST! Thanks to the intelligent and intuitive connector system, all components can be connected without tools within a few minutes to create a modern advertising surface.
EASY to transport! Thanks to its lightweight plastic construction, PIXLIP GO is particularly light. It is just as easy to transport in the comfortable carrying bag. The system fits in any car boot!
Discover the many advantages of PIXLIP Go for your company. Use the versatile system for unique trade fair construction, attractive advertising or innovative shop fittings. As a powerful LED light source and effective illuminated wall, the PIXLIP GO display ensures a high-quality and appealing presentation of your company.

Due to the convertibility of the system, you remain flexible in your advertising. With the presentation system, you are making an effective investment from which you will benefit for a long time. The PIXLIP systems can be used for up to 10 years. Convince yourself of the many advantages of these lighting systems.

Are you interested in PIXLIP GO, but would like to see it live before buying? Then visit our showroom in Isselburg. Alternatively, make an appointment with your customer advisor for a free and non-binding product presentation.