Twin Pusher System
The Twin Pusher pushes your products to the front of your shelf - cleanly and evenly - your product stays in the lane.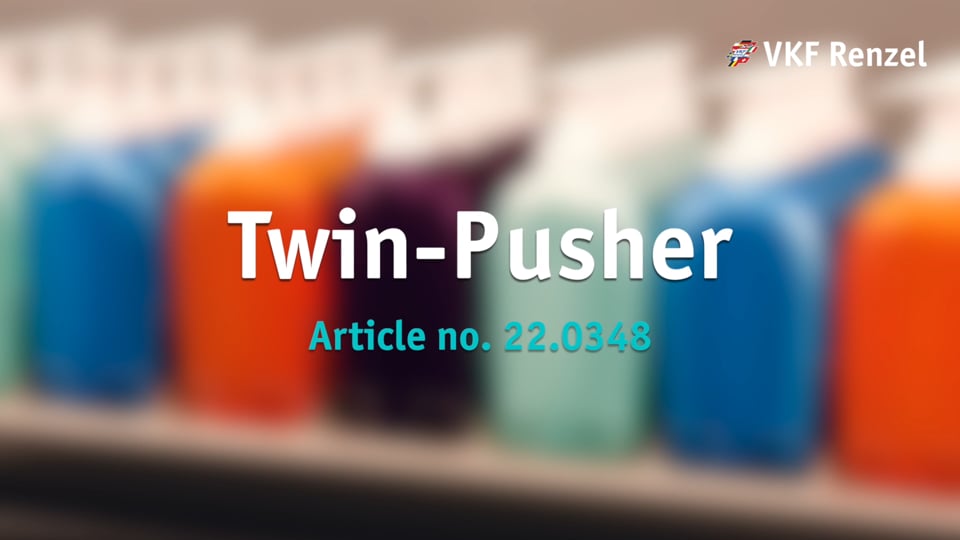 The most important Facts about the Twin Pushers:
pusher system for round products
no lateral pushing away of the products
constant pushing of product
Twin Pusher can be combined for narrow and wide products
Inquire now »
The Pusher for round Products
The Twin Pusher is the optimised product pusher system for smooth and round products such as beverage cans, spice jars, shampoo bottles, creams and deodorants. With conventional pushers, round products often do not stay in the track when being pushed forward and are pushed to the side, causing the compartments to shift.

The Twin Pusher eliminates exactly this problem, as the divider is firmly connected to the pusher. Your product remains in lane. The result is a neat and evenly divided sales shelf - a shelf that your customer expects.
 
Narrow products such as beverage cans or wide shampoo bottles can be pushed forward with the Twin Pusher system. You can connect individual Twin Pushers with the universal adapter to create a wider pushing surface. Determine the compartment size yourself. The Twin Pusher can therefore be used for almost any product in the food and drugstore sector.
Beverage Pusher for Cans & Bottles
... first class check-in of your products

✓ visually appealing and uniform
    product arrangement
✓ fixed shelf space
✓ structuring according to product groups - better
    orientation for customers
✓ easy removal and replenishment of the goods
✓ fast, tool-free assembly
✓ individual adjustment of pushing forces
✓ precise adaptation to your shelf
Discover more »