Electronic Price Labels (ESL)
System solutions for your company
Electronic price labels
take your price labelling to a new level and set the course for the shopping experience of the future. At the same time, the introduction of
modern price labelling
brings considerable advantages.
Control your prices centrally from the workplace and implement price changes within seconds.
Inquire now »
Why rely on digital price tags?
Analogue price labelling is costly and labour-intensive. Labels and price tags for various products have to be checked, updated or replaced. When changes or offers are made, the products have to be laboriously run into the shop and their price manually updated. Switching to a digital solution makes price labelling easier and saves labour costs.

Because price changes are controlled centrally, price changes can be made at any time, but also time-controlled. This allows you to plan offers online for a specific time or implement them immediately within seconds. The changes are prepared conveniently from the workplace. The transmission of the adjustments takes place via an encrypted radio connection.
Product and price topicality
Central control and monitoring
Immediate or scheduled updates
Secure data transmission
Simple inventory control
Extensive fastening solutions
Energy-saving e-paper technology
Future-proof investment
Electronic Shelf Labels - Technology for the Future
Your changes are first transferred by the ESL (Electronic Shelf Label) software to a gateway and from there directly to the price tag. Several price labels can be changed at the same time. In addition to price changes, the design of the price display can also be changed.

The three colours red, black and white are available for the free design of the labels. The display of the electronic label can be designed as desired using drag-and-drop. Use texts, barcodes, graphics, QR codes and other elements for an appealing design. The prices for your products can be obtained directly from your merchandise management system.

The energy-saving e-paper technology ensures a high-resolution image of the digital price tags. Good readability of the contents is guaranteed in any kind of light. The barcodes are scannable through the high-resolution displays and support inventory control.

In contrast to conventional signs, ESL products also offer the possibility of interaction. With the help of NFC technology, customers can access more information about the product. Display your prices in accordance with the Price Indication Ordinance (PangV) and with little effort. Use the many design options to create incentives for your customers to buy.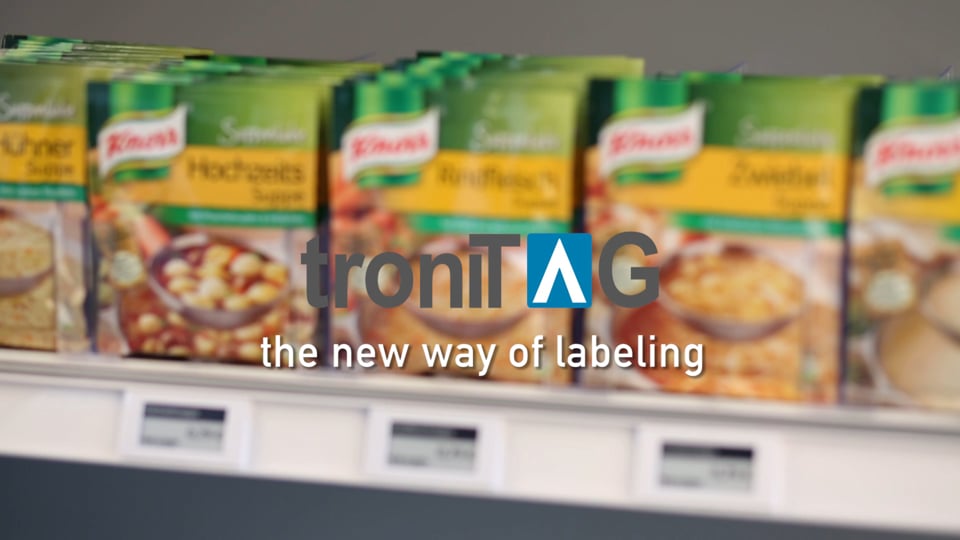 New shopping experience for your customers
With an electronic price label you offer a special shopping experience in your business. The electronic labels not only allow interaction with customers. They also offer the option to provide additional info about the product. The digital labels can be individually adapted to your corporate image.

The digital price labelling ensures a professional and modern impression on the customer. It also offers many other options in the area of customer service. The customer's shopping list can be transferred to a smartphone. The ESL system guides from one product to the next on the shopping list.

WLAN and impulse radio ultra-wideband make it possible to determine the exact position in the store. Based on this technology, special offers in the vicinity can be pointed out. The store's own staff are also specifically navigated to restock or replenish shelves.

The fully automated process as well as the central price labelling reduces sources of error and ensures constant price and product quality.
Integrated labels vs. battery labels
Not only do you get the labels in different sizes, but also different product series. Among the different series you will find both battery-operated and power-based labels. Both the battery labels (BL) and the integrated labels (IL) work with ZigBee radio transmission.

You can mount and use our BL series anywhere. They are available in different sizes so that the labels can be used on a perforated wall hook, as a display stand or as a digital door sign. Thanks to the e-paper technology, the batteries have a long runtime and are also monitored by the system.

Integrated labels are supplied with power via a special busbar. For this reason, they are extremely slim and are inserted into the side of the rail. The electronic price labels are used for price labelling on the shelf. Thanks to various shelf rails and matching back parts, the labels can be attached to all shelves without any problems.

In addition to the BL and IL labels, there are other product series in our range. Thanks to our large product range, you can also equip refrigerated shelves and fresh food counters with electronic price labelling. The Z-series, on the other hand, scores with its high data transfer speed.

Discover our electronic labels for your business. Both digital price labelling and electronic room signage can be implemented with the modern displays. Modernise and simplify your work processes by using digital signs.
Different fixings for electronic price tags
We offer a variety of fixings for the different labels in our range. Thanks to a universal adapter, every label can be combined with every attachment. The adapter is attached to the back of the label and can then be coupled with a display stand.

Discover display stands for your sales counter or a double hook adapter for your perforated wall. A clamp can be used to attach the label to baskets. With us you will find the right fastening for every product carrier.

Not only shelf rails, price stands and suspension hooks can be selected as fastenings. We are also able to tailor the fastening of the labels to your individual requirements.
Electronic Shelf Labels for your industry
Together with our sister company troniTAG, we have already equipped companies in various industries with ESL products. Our wide range of products and many years of experience in this field enable us to implement individual solutions.

In addition to solutions for pharmacies, hotels or petrol stations, we also offer an ESL starter package. This package contains everything you need to get started with digital price labelling. The package with 50 battery labels can be installed quickly. It is ideal for equipping small markets or test facilities.

With us you also have the option of leasing digital price labels. Instead of a one-off investment sum, you can pay off your investment in monthly instalments. For advice on our leasing offers or our comprehensive starter package, please contact us at any time.
Digital price tags from troniTAG
Opt for
modern price labelling for your company
. Benefit from the uniform and uncomplicated control of prices. Design your price tags individually according to your wishes and your corporate design. Offer customers a shopping experience in a class of its own.
As a full-service partner for the integration of digital price tags, we are always available to answer your questions.
Discover more »