Exhibition Wall Slot-together System: Individual LED Exhibition Stands
Modular Exhibition Wall System
printed exhibition wall for your next trade fair appearance
Modular exhibition wall slot-together systems enable the design of unique exhibition stands. The individual elements of the modular system can be assembled individually. The PIXLIP Go system allows you to set up LED exhibition stands without tools. We are happy to supply you with the exhibition wall slot-together system in combination with individually printable advertising textiles.
easy to transport
space-saving stowable in extra carrying bags
realisation of ideas
slot-together system for small or large exhibition stands
quick assembly and disassembly
tool-free slot-together system with connectors
Exhibition wall Slot-together System: put your Exhibition Stand together
Are you looking for an uncomplicated, modular system? With such a system, the exhibition stand can be redesigned again and again. This means that new, individual exhibition stands can be created again and again. Thanks to the exchangeable advertising textiles, you remain flexible in terms of use.

The system consists of individual wall elements and the corresponding connectors. You can use these to plan exhibition stands for your next trade fairs. The modular system can be transformed and adapted in a short time.

The frameless presentation of the advertising banners creates a seamless advertising space. The displays can be equipped with printed banners on one or both sides. The advertising textiles are easily attached to the aluminium frame of the displays via a keder. Discover an exhibition wall slot-together system that can be individually adapted to your company.
Must Haves for your next Trade Fair Appearance
In our blog, we show you which must-haves you should plan for your next trade fair and which creative ideas you can use to attract visitors to your stand. 

Discover more »
PIXLIP Systems: Exhibition Wall Slot-together System and more
PIXLIP systems such as PIXLIP Go stand for innovation and quality. With modern LED technology, the systems attract maximum attention from passers-by, customers and visitors. Even from a distance, the LED displays attract attention and ensure the high-quality reproduction of your advertising.

PIXLIP Go owes this long-distance effect to highly efficient LED modules. This effect and the comfort of use extend to all PIXLIP systems. Lightweight materials and simple technology ensure easy transport and quick assembly. This is exactly what is meant by a modern lighting system.

An ideal effect for drawing the attention of potentially interested parties to your services at trade fairs. The products have a fire protection rating. They can be combined with flame-retardant banners. This makes the displays ideal for use at trade fairs.

Due to the easy set-up and transport as well as the high advertising effect, the LED walls can also be used elsewhere. The displays help to promote sales at the Point of Sale. In addition, the illuminated walls are also helpful for passing on information in public or cultural areas.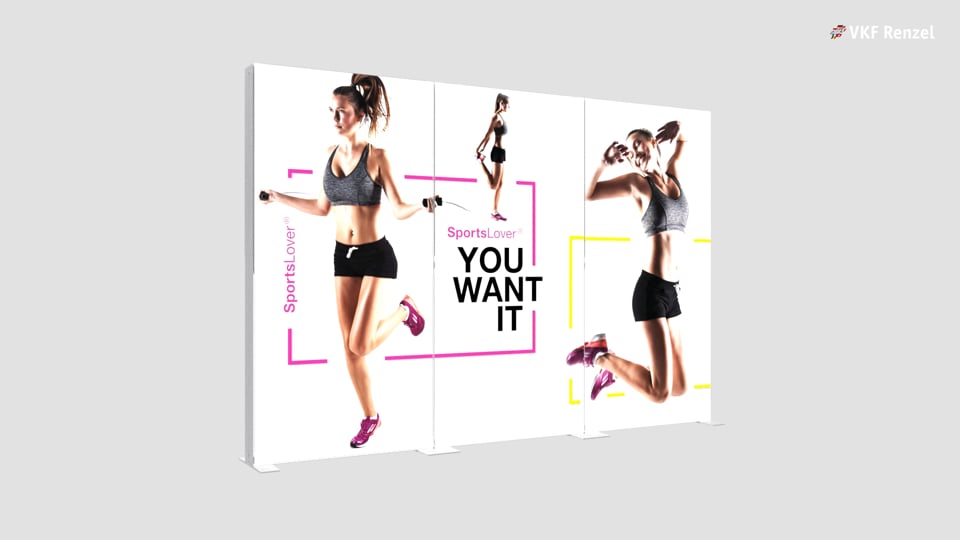 An Exhibition Wall Slot-together System for All Cases
Light walls and lighting systems of the brand PIXLIP are characterized by brightness, lightness and high quality. Powerful LED's provide a unique illumination. Selected materials and a sophisticated technology ensure ease of use and transport of the PIXLIP systems.

The quality of the lighting systems is shown in their even illumination. Furthermore the systems have a life expectancy of approx. 10 years. During this time the illuminated frame can be equipped with new textile banners as often as desired. In this way it remains up-to-date and unique.

The basic system is simple but effective. An aluminium base frame is quickly put together. High-quality material and a great processing provide for optimal fitting accuracy during assembly. The basic frame offers space for clamping a plastic tab. Here the printed textile banner is inserted in no time.

Your banner will be perfectly stretched and attractively illuminated. The even lighting enables highly efficient LED technology. These LED modules are not laboriously screwed together. With the PIXLIP Pop System they are attached to the background banner. The GO system has a LED strip which is inserted into the PIXLIP module.

The different systems differ in a few features. This is why the systems are so popular in the different fields of application. This makes it possible to specialize in a certain area. Equipped with a high quality textile print, you will bring your advertising message to light.
Trade Fair Wall - printed for your next Trade Fair
The individual exhibition walls of the PIXLIP Go system can be equipped with individually printable textile banners. There is a block-out banner on the back to direct all the luminosity onto the printed banner. This block-out banner means that no luminosity is "lost" to the rear. In this way, your banner is optimally and homogeneously backlit.

Various system connectors can be used to connect the walls side by side or across corners. Swivelling connections are also possible. In this way, you can install doors in your exhibition wall with the help of the connectors. The individual slot-together system components cascade to form a comprehensive advertising space.

There is also room for larger advertising motifs on this resulting surface. Use the frameless displays for a seamless presentation of your advertising message. Send us your print data and we will supply you with the exhibition wall slot-together system including printing.
 
Innovative Illuminated Frames and Lighting Systems for Your Company
The illuminated frames put your advertising medium in the limelight without borders. The attractive LED lighting attracts passers-by' attention to your advertising from afar. Flexibility, mobility and quality are guaranteed by the PIXLIP systems.

Benefit from the advantages of the LED exhibition wall slot-together system when using it at your next trade fair. In our range you will find ready-made exhibition wall sets or exhibition wall elements and matching connectors. Choose a modular, expressive system for your appearance at the next event.

Choose the right PIXLIP system for your particular purpose. Do you want a mobile LED Roll Up? Or are you looking for a modular illuminated wall? We will be happy to advise you on your decision.