Advertising Materials - Huge Selection for your Sales Promotion
What are promotional products? Advertising materials include giveaways, promotional items and various promotional products. They serve to create or strengthen the bond with customers and business partners. In our online shop you will find various products that can be used as a product and at the same time as an advertising medium.

There are therefore countless promotional products for the various areas of application and industries. But which promotional products exist? From USB sticks to ballpoint pens to salt shakers. In the online shop you will get a comprehensive overview of the wide product range of promotional products.
Strengthening the bond with customers and partners
Can be personalised by printing
Suitable for every company and every customer group
Discover our wide range of promotional products:
Sustainable promotional gifts for your sales promotion
In the field of promotional products, ecological promotional items are becoming more and more popular. Made from natural raw materials, finite materials are being replaced. Ballpoint pens, bags and umbrellas are made from recycled material. This makes old plastic waste and litter reusable. A third option is articles that avoid repackaging.

A practical eco-bag eliminates the need for a plastic bag when shopping. Recyclable coffee cups replace single-use To Go cups. You will find these and many other options for sustainable advertising with promotional items in our range.

Especially for customers with a green thumb, seed letters and flower balls are recommended as giveaways. Make your advertising environmentally friendly and sustainable now!
You search, we offer:
creative and exclusive promotional items
personal support and comprehensive service
full service in logistics and controlling

VKF Renzel produces and distributes promotional items and giveaways in a wide variety of designs. Thanks to our in-house print shop, we offer a high degree of flexibility and can thus react promptly to various requirements. Furthermore, we have extensive capacities with the most modern storage technology.

We only understand Chinese when it matters!

Whether China, Taiwan or India, many promotional products still come from distant countries. More than ever, importing is not only a matter of market-driven prices and punctual deliveries. Instead, it is important to ensure quality standards and compliance with all legal guidelines.

Thanks to our long-standing contacts in the Far East market, we know what is important. With our import/export office in China, we offer a direct line to the various production facilities. We accompany your order from origin to the ship.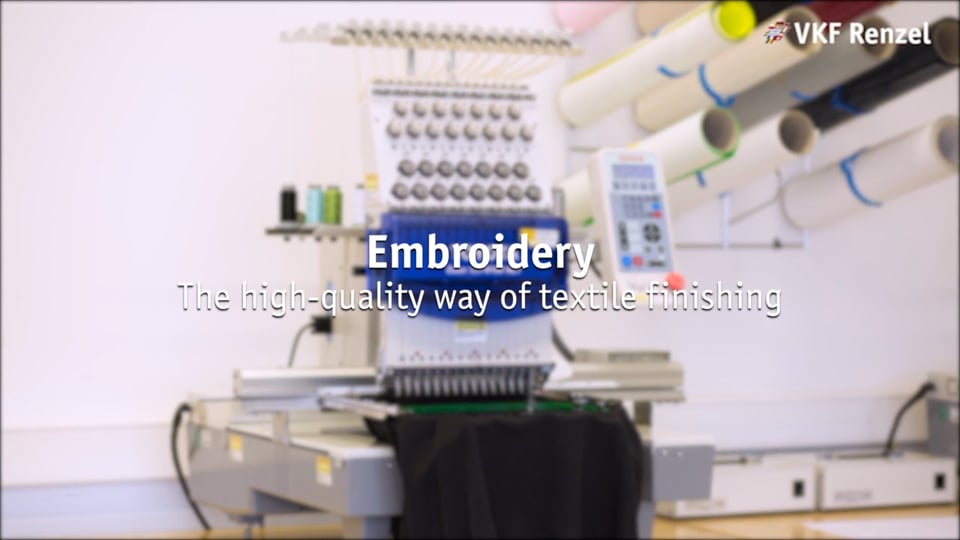 Our Finishing Options in the Textile Sector
Thanks to a certain size of operation and years of experience, various options come into question when it comes to finishing your products:
Embroidery
The embroidery is of very high quality and gives the textile a noble character. Furthermore, it is very durable. This technique is suitable for both smaller and larger runs. It can also be combined very well with other techniques. Versatile decorations are possible, such as 3D embroidery.

For many textiles, embroidery is the only way to realise a finishing, e.g. textiles made of terry cloth. The motif is "translated" into an embroidery programme with the help of software. The costs depend on the complexity and size (number of stitches) of the motif.
Screen Printing
Screen printing is the classic finishing technique. Textile screen printing is characterised by its high wash resistance and colour brilliance and is optimal for larger quantities.

It is printed directly onto the textile and the printing inks are fixed by means of high temperatures. One film and one screen are required for each colour that is printed. Depending on the motif, a choice is made between line printing (solid colours are printed) or halftone printing. With the latter, colour gradients can be represented.
Laser engraving
Laser engraving is an unusual finishing technique in the textile world and is therefore not often encountered. It can already be used for small runs. A laser beam is used to burn the surface of the textile. The laser can be adjusted so finely that the material is not damaged.

The motif appears as a deepened relief. Thin fabrics are not suitable, but fleece fabrics are ideal because they offer a lot of volume. Since the laser works very precisely, filigree motifs are easy to realise.
Digital Print
Digital printing is particularly suitable for multi-coloured photo motifs, graphics or logos. Especially when it comes to smaller print runs or even single pieces. In this process, the colour is printed directly onto the textile through nozzles and then fixed.

As with textile screen printing, colour gradients are possible here, there are no limits to the variety of colours. Washability and colour fastness are very good. It can also be printed on dark textiles.